Creativity and Technology at the time of the IoT and Industry 4.0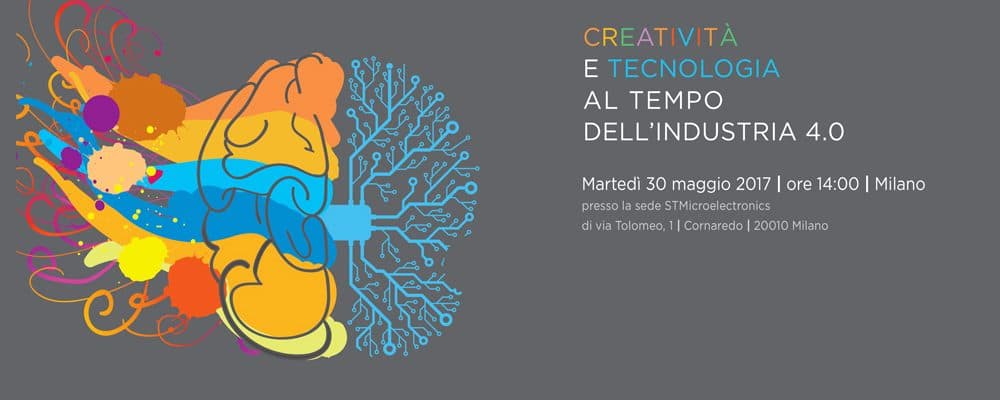 How companies of the "Made in Italy" exploit IoT technologies, let's discuss it at an event organised by IoTItaly with STMicroelectronics.
On Tuesday, 30 May 2017, IoTItaly, the Italian Association on the Internet of Things of which I am one of the founders,  will run an event in collaboration with STMicroelectronics named "Creativity and technology at the time of Industry 4.0", with speakers from the University of Milan, IoT system integrators and a number of companies that will present their success stories in the usage of Internet of Things technologies. The event will be hosted at the Cornaredo site of STMicroelectronics, a company of great importance in the IT sector.
The focus of the conference is the application of IoT technologies to products, with particular reference to the "Italian Excellencies" (i.e. the most relevant Italian products) which use the Internet of Things to create added value.
The presentation and exaltation of Made In Italy products and creativity will play a central role in the event thanks to the participation of primary companies in their field, which have contributed to the production of "connected" design objects.
The event will be organised as a round table, which will allow panelists and audience to interact and thus create a debate.
To accompany the various panels, an operational part will be added where the companies that develop IoT technologies will have the opportunity to show participants how it is possible to apply concrete new solutions in the production chain.
You can find more details and register for free to the event HERE
WRITTEN BY GIULIO CORAGGIO
IT, gaming, privacy and commercial lawyer at the leading law firm DLA Piper. You can contact me via email at giulio.coraggio@gmail.com or giulio.coraggio@dlapiper.com or via phone at +39 334 688 1147.