IoT & AI
Top 3 takeaways from IoTItaly Internet of Things event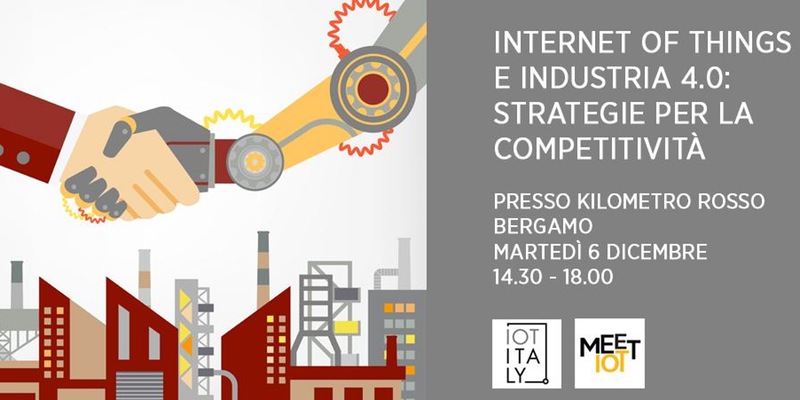 The Internet of Things is leading to new legal issues that were discussed as part of the event run by IoTItaly together with the University of Milan. 
As anticipated, the association IoTItaly for the growth of the Internet of Things in Italy that I contributed to create ran on 6 December 2016 a major event named "Internet of Things and Industry 4.0: Strategies to increase competitiveness" together with the Politecnico di Milano.
There were over 100 participants and, as usual, I moderated the panel of legal experts which were in this case Carlo Ciccarelli, General Counsel for Iberia and Major Events at Atos, Francesco Macchiaroli, General Counsel at Avio Aero (a GE group company) and Roberta Tisci, Senior Legal Specialist at NTT Data. And below are my very personal top 3 takeaways from the legal panel:
1. New models of business lead to different perspective towards legal issues
I already discussed in the past about the new models of business of the IoT, but a very interesting comment emphasised that the Internet of Things is leading to different types of arrangements with customers in B2B transactions. There has been a shift from a model of business where the customer was just paying for a product/service that was leading to hard negotiations on pricing, liability and service levels to a "profit sharing" model of business where technology/service suppliers become partners of their customers.
This shift means that there is much more interest on the side of the technology/service supplier to ensure that the contract is properly performed in an efficient manner. This structure is a "win win" since customers get a better service and suppliers get a higher profit if they perform a good service and their customers properly contribute on their side.
Additionally, the Internet of Things is leading to a major change in the business of companies with a shift from an hardware focused business to a software focused business with the consequence that intellectual property issues are becoming considerably more important.
2. There is a battle between data ownership vs. more detailed data
Data is the money maker of the Internet of Things and therefore customers are very careful in preserving their ownership of data generated by means of the usage of suppliers' technologies in their company through intellectual property rights, trade secrets and confidentiality clauses. This is particularly relevant in the case of Industry 4.0 technologies where customers do not want that the data generated through their systems might be used by their suppliers to improve their offering or to the benefit of competitors.
The above scenario however is in contrast with the supplier's interest to collect as much data as possible from different customers in order to obtain more accurate big data and being able to provide a better service to the same customers. Hard negotiations take place on this topic to identify the right balance of interests that might look opposed, but might collide, depending on how the agreement is structured.
Also, there is the need of a cultural shift on the value of data. And there was a very interesting comment on the possibility in some cases for suppliers to provide its services even for free if data collected from its customers are so valuable for future supplies. Under this scenario, customers would "pay" through the provision of their data, allowing suppliers to use them for other purposes.
3. The EU Privacy Regulation might become a threat for the Internet of Things
The EU General Data Protection Regulation with its new stringent obligations and the fines that will become massive might hinder the growth of the IoT in the European Union since it considerably increased the threshold of compliance.
The above
might lead to technologies that are not launched or whose launch in the European Union is considerably delayed and
might prevent small and medium sized companies to offer their services. Companies might exponentially require a certification of compliance of their suppliers and agents and some companies might not be able to afford it.
Likewise, cyber security costs – which are required also to comply with privacy obligations – might become excessive. Since such costs cannot be transferred to customers, only companies with large economies of scale able to bear relevant investments will be able to survive.
It was a great event and thanks to all the participants, panelists and sponsors!
Follow me on LinkedIn – Facebook Page – Twitter – Telegram – YouTube – Google+

Don't miss our weekly insights