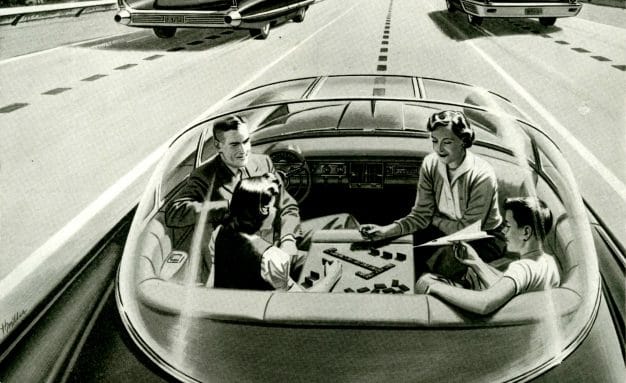 17 Sep

What future for self-driving cars?

Self-driving cars

are a big question mark for many in the market, are the coming soon and how our lives will change?

As part of the series of guest posts named 

Thoughts Leaders' Corner

, here is a very interesting article from the global IoT influencer

Ken Herron

who is the CMO of intelligent IoT messaging company

UIB

 and w

rites about technology for

Teletimes. 

I hope you will enjoy it!

*     *     *     *

On Silicon Valley highways in and around the San Francisco Bay Area, 30 different companies are now road-testing self-driving cars. This month, Google's self-driving car will complete its 2,000,000th mile driving on city roads. Uber-owned Otto 

recently delivered cargo in Colorado on a self-driving truck. And part of Tesla's strategy to disrupt the global auto industry is the addition of autopilot technology to their battery-powered cars.

The world's top five automakers have promised autonomous vehicles by 2021, the year when autonomous vehicle revenues are estimated to reach $42 billion globally. We are witnessing a historic moment in history, the birth of new business models, new mobility designs, and the simultaneous transformation of multiple industries

–

automotive, transportation, freight, insurance, infrastructure, oil and gas, and others.

I had the opportunity to sit down with IoT Disruptions' CEO Sudha Jamthe. I wanted to speak with Sudha not just because she's one of the Internet of Things industry's leading futurists, authors, and teachers (in Palo Alto, California at Stanford CSP), but because she is the industry's leading thinker on the business of autonomous vehicles. Sudha focuses on how these new self-driving cars, trucks, and ships will impact all industries, from ICT to manufacturing to oil and gas. Sudha will also be teaching the first-ever course on the business of self-driving cars, with classes starting in September at Stanford.

Ken Herron: So everyone can have a common understanding, how do you define the term "autonomous vehicle"?

Sudha Jamthe: Autonomous vehicles (AVs) are any mode of transportation that does not need a human driver. This includes cars, trucks, buses, shuttles, and boats. What's important to note is that these vehicles won't just drive themselves, they will also co-exist with everything else – roads, traffic lights, and of course, human drivers, for a long time to come.

KH: This may be an obvious question, but how are AVs able to "see"? What are the key technologies that are being used?

SJ: AVs use a range of different sensors, including ultrasonic, video cameras, radar, and LIDAR. LIDAR is arguably the most talked about right now because of its advantages over cameras and sensors, and the very hot R&D race to both miniaturize LIDAR sensors and to make them more affordable. The key advantage of LIDAR is that it can generate precise 3D images (called "point clouds") in a variety of different environments and lighting conditions.

KH: I see many people being surprised at how quickly cars with the capability for autonomous driving have gone from something in the "future" to something that many of us are finding ourselves sitting next to at a stoplight or even in our own driveways. When will we get our first ride in a self-driving car?

SJ: The short answer is that if you haven't yet already done so, you'll be able to take your first test ride at this fall's major technology trade shows. Virtually every big event this year will feature test rides for people to not only see the new vehicles, but also to better understand the sensor, mapping, and Artificial Intelligence (AI) technologies that power them. The longer answer is that autonomous vehicles are rated on a scale of 1-5, and no car is able yet to drive at level 5 (full autonomy on public roads). If you're lucky enough to live in Dubai, Singapore, London, or Silicon Valley, however, you will soon have the chance to ride in an autonomous car, taxi, shuttle, or even truck, just note that you'll likely still see a human in the driver's seat (and if you're in Boston, Lyft is promising AV rides soon through their partnership with MIT's Nutonomy!).

KH: What do leaders need to consider when they're thinking about how their own businesses can take advantage of the opportunities which will come with autonomous vehicles in 2021?

SJ:

There are three things I think it's important for business leaders to understand about autonomous vehicles. First, from a business planning horizon, 2021 (less than four years from today) is just around the corner. Secondly, some businesses mistakenly think they have a choice. We

know

autonomous vehicles are going to happen, so "opting out" of self-driving cars will be similar to companies who opted out of the internet or social media in the past, or IoT today. There will be a strong first-mover advantage that will disadvantage businesses who take a "wait and see" approach. And third, this is not just about the self-driving car or its technologies, it's about the future of mobility, specifically how autonomous vehicles will permanently affect our mobility and therefore our daily lives in the same way that the invention of the original automobile did when we made the shift from horse-drawn carriages to cars.

KH:

Can you give an example of how this change will impact businesses outside the auto industry?

SJ:

As with all things IoT, I expect the real value of self-driving cars

–

which will, by definition, include connected cars

–

to be all about the data. Let's use the example of a self-driving Uber or Lyft car in 2021. If you're requesting a car to go furniture shopping, I can see furniture companies like IKEA paying for your transportation if you shop there. So if you're a retail business, you will consider covering the cost for people to come to your stores. The data generated by connected cars brings marketers one step closer to knowing what customers want and need before they do themselves.

Let's look at another example. Seniors, students, and people with disabilities can be limited to shopping at places within walking distance or are easily accessible by public transportation. If you remove that mobility barrier, many stores will be able to target completely new customer segments. For example, Loco Motors

 ran a pilot on the Las Vegas Strip of a friendly, accessible-to-all mobility vehicle called "Olli." It won't be long before we see each casino group having their own shuttle to bring people to their properties. 

KH:

Is there anything else you would like to share

?

SJ:

I meet both people who are convinced they will never give up purchasing and driving their own cars and people who just can't wait for shared, autonomous vehicles. So my advice to your readers is to not let their personal opinions cause them to miss an opportunity for their businesses. Consumers often change their minds once new technologies become mainstream.

It was not that long ago

– for those of us of a certain

age

– that we were

absolutely

convinced that

we

would never have/use: a cell phone, a home internet connection, a personal website, a personal social media account, an emoji, or more recently, chat with the devices in our smart homes

. As cars have become IoT devices with wheels, I ask everyone I meet to think about what opportunities autonomous vehicles will create for

their

business, and what are they doing right now to be ready for them. Businesses who seize the opportunities from the changes in their customers' mobility will have a real advantage over those who don't.